Hi all
i bought a renault scenic 1.9 dci 2004 with a f9q engine. i did not know if the timing belt has been changed, so i bought a complete kit (belt, tensioner, water pump, fan belt and tensioner) i also bought a haynes manual (it will make good toilet paper) i also bought a locking kit from fleebay (3 locking pins)
Well i lined up the camshaft pully on the marks, i could not find the timing mark for the pump, i could not get the crankshaft bolt/plug off, so i took the crankshaft pully off an it was lined up with the mark on the bottom, the belt i bought had 3 lines on it so all i could do was line the 3 marks on the belt to the 3 marks on the pullies, and they all line up, i have left it there, and i will hand crank the engine tomorrow, fingers crossed


Woody

Member





Posts

: 8


Join date

: 2016-04-24


Age

: 51


Location

: Newcastle Under Lyme (Stoke)



now i have had a sleep, i might take the belt off again, take the battery off, the battery carrier off and the gearbox inspection cover off and lock the flywheel with a screw driver.

the camshaft is in the right place, and the fuel pump is in the right place, but i think the crank might be 1 tooth out, i will take some pics to show you


Woody

Member





Posts

: 8


Join date

: 2016-04-24


Age

: 51


Location

: Newcastle Under Lyme (Stoke)



Here are the pics, i am struggling?
am i right in saying as long as the crank is locked, and the cam is onthe mark and the fuel pump is lined up with the line on the belt with the dot on the pump it will be timed right?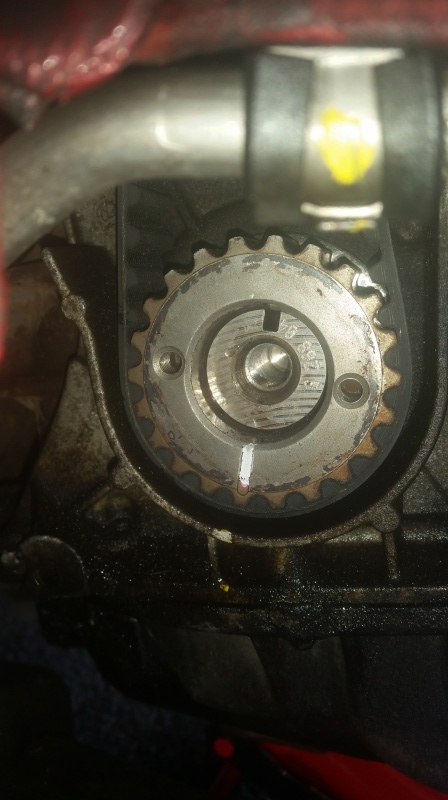 Last edited by woodyofcastle@aol.com on Fri May 06, 2016 7:46 pm; edited 1 time in total (Reason for editing : too many pics)

Woody

Member





Posts

: 8


Join date

: 2016-04-24


Age

: 51


Location

: Newcastle Under Lyme (Stoke)



[
Right, i have managed to put the belt on but i am not 100% if the crank is at 0* (tdc) the marks are right and i sat down for 5 mins thinking what i can do?
then i came up with a plan, and bodged it lol, all marks are lined up, but need to know how many turns of the bottom pully is 1 revolution of the engine, i am guessing 2 times?
please help?   here are my bodgit pics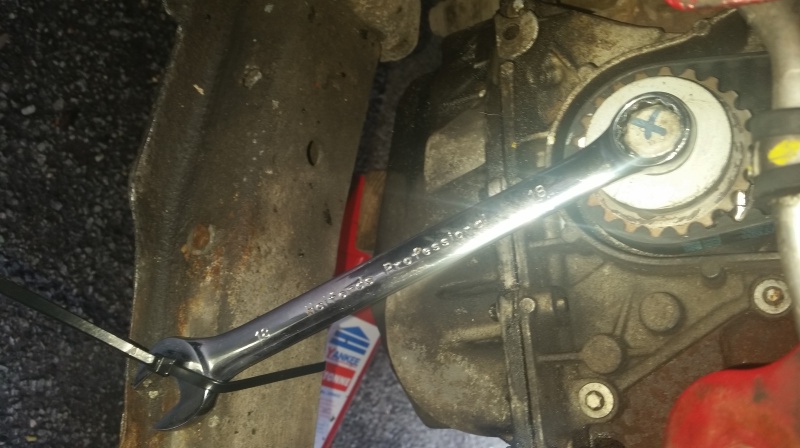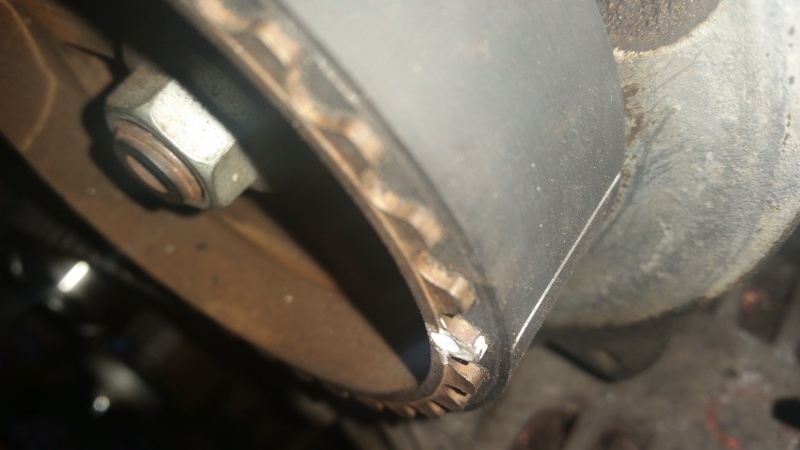 Woody

Member





Posts

: 8


Join date

: 2016-04-24


Age

: 51


Location

: Newcastle Under Lyme (Stoke)




Woody

Member





Posts

: 8


Join date

: 2016-04-24


Age

: 51


Location

: Newcastle Under Lyme (Stoke)



I wouldn't have used a spanner with a tie clip but as this question is 3 weeks old waste of time answering it lol sorry I can't be much help forum needs more use and members.i would go step by step like your doing taking photos keep your lines marked up.Make sure nothing moves or out of timing

Fordvolvodiesel

Member





Posts

: 16


Join date

: 2016-04-26



---
Permissions in this forum:
You
cannot
reply to topics in this forum